Product Information
Hair DENSITY
This density chart is a guide to determine how much hair is used on the wig and frontal cap and how full your lace will appear. Please note that the type of hair used and how it is styled may determine the hair density. For example, wavy and curly hair expand when combed out and appear thicker. Light densities are not advised for straight hair textures as it has less volume and fullness.
To get the most natural look, we suggest you select a density similar to your own.
You can specify two different densities for different parts of the cap. We recommend you choose "medium heavy" (120%-150%) density as it is more durable and can last up to 8 months with good care and maintenance (see maintenance page). The most natural looking densities are "light" and "light-medium" (80%-100%) which are ideal for special occasions but is not recommended for every day use as the hair naturally sheds after grooming.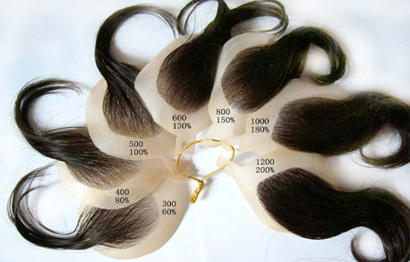 Hair Colours
All our hair extensions and lace are 100% virgin and only come in natural colour 1b (off black).
1B off Black

1 Jet Black

2 Dark Brown

4 Medium Brown

6 Light Brown

8 Chestnut

27 Strawberry Blonde

30 Light Auburn

33 Dark Auburn

60 Bleached Blonde

613 Light Blonde

Ombre Blonde

99J red Wine

Red

4/27 Med Brown/ Strawberry Blonde

6/613 Lgt Brown/ Lgt Blonde
How To Measure Your Head
You would need to use a tape measure (inches) to determine your cap size (small, medium or large) for a Full Lace System. Lace Frontals and Closures do not require any measuring as one size fits all.
Step 1 -

Circumference: Measure all around the head. Position the tape measure so its edge follows the hairline around the head and nape of the neck.

Step 2 -

Front to nape: Measure from your hairline at the centre of your forehead straight back over crown to centre of your hairline at the nape of your neck.

Step 3 -

Ear to across forehead: At front of your ear, measure from your hairline at the base of your sideburn, up across the hairline along forehead to the same point in the front of the other ear.

Step 4 -

Ear to over the top of head: Measure from your hairline directly above the ear across the top of your head to the hairline directly above the other ear

Step 5 -

Temple to temple (round the back of head): Measure from temple to temple across the back of your head.

Step 6 -

Nape of neck: Measure the width of your hairline across the nape of the neck.
AVERAGE CAP SIZE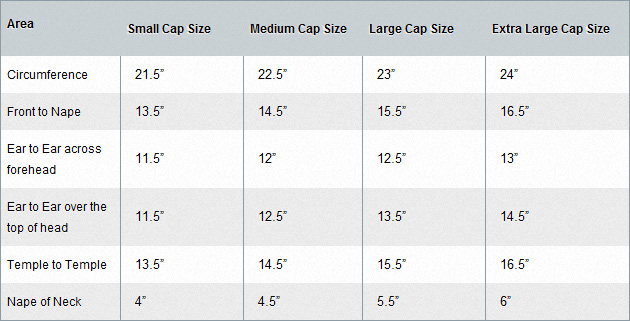 Lace Application
The following products are required:
Scalp Protector
Rubbing alcohol
ULTRA HOLD (recommended long lasting lace adhesive)
Cotton buds/Q tips
2 Small makeup brush (for gluing and makeup)
Cotton wool
Nude lip pencil
Make-up powder
Hair clip and pins
Baby wipes
Comb
Step 1 -

Clip hair up and pin baby hairs away from your face to prevent it from touching the glue.

Step 2 -

Carefully cut the lace around the perimeter of the full lace wig system, frontal or closure

Step 3 -

Remove excess oil from your hairline (where you want the lace placed) with cotton wool and rubbing alcohol. Repeat this until the skin is clean and feels oil free.

Step 4 -

Apply scalp protector along your hairline. This will act as a barrier between your skin and the adhesive. This mainly favours those who workout or with sensitive skin.

Step 5 -

Use a nude lip pencil (that matches your skin tone) to trace dots along your hairline where you want your lace positioned. For best results, make sure there is a 4 finger (horizontal) space from eyebrows to traced line.

Step 6 -

Apply a thin coat of Ultra Hold glue using a small makeup brush or cotton bud/Q tip. Wait until the first coat is dry (approximately 5minutes) before applying a thin second coat. Wait until the glue feels tacky (can take up to 10mintues) -this should feel like tape. Do not use a blow-dryer and allow it to dry naturally so it sets properly. If it is still wet, use a small makeup brush to sweep in a horizontal direction until it's tacky.

Step 7 -

Use fingers to accurately position lace down on the tacky adhesive. Make sure that it is aligned precisely i.e. the middle parting is positioned in the center point of your forehead or the side parting is positioned above brow arch. Then from one edge to the other, use the flat edge of a comb to firmly press the lace on the scalp until it feels secure.

Step 8 -

Apply powder makeup to the parting and edges of lace with a clean makeup brush or cotton bud/Q-tip. This is to add to the illusion of it growing from your scalp.
Please avoid any heat like hair dryers 24hours after lace application. This is to prevent from lifting.
Tape Application
Step 1 -

Cut double sided tape into desired shapes. Peel one side of the tape to expose the adhesive and press to your skin around the perimeter of your head below the hairline.

Step 2 -

Place your lace on your head and position it so that the perimeter edge of the lace lines up with edge of the tape.

Step 3 -

Peel tape off to reveal the adhesive. Attach lace by pressing and holding it to the adhesive for 1 minute.

Step 4 -

Apply powder makeup to the parting and edges of lace with a clean makeup brush or cotton bud/Q-tip. This is to add to the illusion of it growing from your scalp.
TIP Leave small spaces between the tape strips, to allow moisture to escape.
Adhesive Removal
The following products are required:
Step 1 -

Spray the C-22 Solvent along the required areas of your lace and hairline and leave on for 3 minutes

Step 2 -

Gently lift your lace up (you may need to spray more if necessary). Removing the lace with care will prevent hair loss.

Step 3 -

Gently wipe the area of your lace that needs to be cleaned onto the mirror (it may help to start from the top and work your way to the bottom of the mirror)

Step 4 -

Clean the adhesive residue off the mirror using baby wipes. Make sure you dry the mirror with towel before you continue

Step 5 -

Repeat this process until the entire lace is clean.

Step 6 -

Now wipe your actual hairline with baby wipes before washing it with soapy water. Continue to clean until oil residue is removed

Step 7 -

Wipe your hairline using cotton wool and rubbing alcohol

Step 8 -

If your lace is feeling greasy, then shampoo and condition (please refer to hair maintenance for a step by step guide on how to wash and condition)
TIP If there is residue or glue on the hair cuticles, simply spray a fine mist of C-22 Solvent to a thin tooth comb and gently remove it off the hair
Tape Removal
Step 1 -

Using your fingers, gently lift a corner of the tape and gently peel off the lace.
If there is any tape residue remaining on the system, please follow the cleaning instructions above.
We recommend that you remove your lace wigs, frontals and closures every 2 weeks for cleaning. This would preserve the hair and keep the appearance looking immaculate.